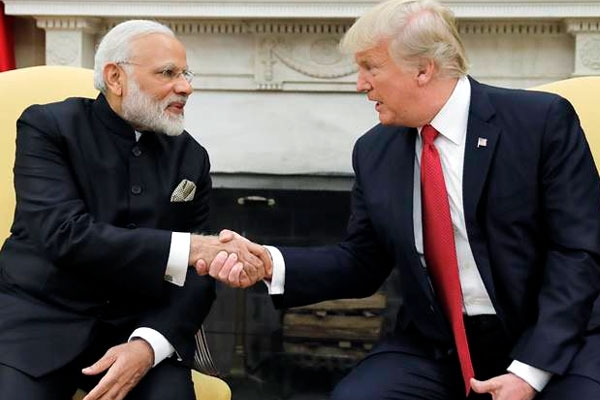 (Image source from: Free Press Kashmir)
The government of India has invited United States president Donald Trump to be the chief guest at next year's Republic Day celebrations, says a report.
According to a news report, India is awaiting the U.S. government's response where the latter has indicated that Trump administration is favorably considering the invite that was sent in April this year. The invite was reportedly followed up with multiple rounds of diplomatic negotiations.
The President of India Narendra Modi's government hosted Trump's predecessor Barack Obama at the Republic Day celebrations in 2015. If Trump accepts the invite, his visit will possibly be more dramatic and closely-watched than Obama's was, considering his mercurial nature and the uncertain India-U.S. ties at the moment.
In 2016, (now former) French president Francois Hollande was the chief guest at the Republic Day parade, while the Abu Dhabi Crown Prince Sheikh Mohamed bin Zayed Al Nahyan was the guest in 2017.
This year, in an unprecedented move, 10 leaders of ASEAN countries — Thailand, Vietnam, Indonesia, Malaysia, the Philippines, Singapore, Myanmar (Burma), Cambodia, Laos, and Brunei — attended the celebrations.
The invite to the Trump administration comes amid differences with U.S.over trade tariffs, India's ties with Iran and New Delhi's proposed deal with Russia over S-400 defense missile system.
The India-US ties likewise took an uncertain turn when the U.S. Secretary of State Mike Pompeo canceled the crucial '2+2' dialogue in June.
Earlier, Minister of External Affairs of India Sushma Swaraj and Minister of Defence were scheduled to travel to the U.S. in order to take part in the meeting with Pompeo and U.S. Secretary of Defence James Mattis on July 6. But Pompeo on June 27, has proclaimed of postponing the dialogue for "unavoidable reasons."
However, they agreed to reschedule the meet at a later date.
By Sowmya Sangam