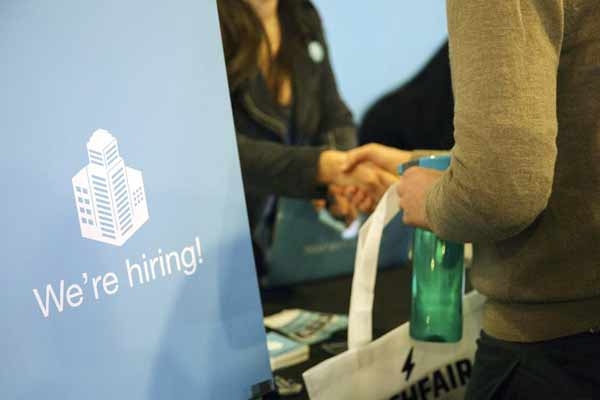 (Image source from: The Wall Street Journal)
The new visa system announced Wednesday, that will kick off from April 1, will turn things bad as it will give priority to foreign workers who hold advanced degrees from various American universities taking no notice of "specialized talent."
The move by Trump administration would probably adversely affect project expansions, on-site activities, and people addition schedules of Indian Information Technology (IT) companies in the United States.
The concluding rule reverses the order by which the United States Citizenship and Immigration Services (USCIS) selects H-1B petitions under the regular cap and the advanced degree exemption.
First and foremost, the agency will select H-1B petitions submitted on behalf of beneficiaries, as well as those that may be eligible for the advanced degree exemption. After that, it will select from the leftover eligible petitions, a number projected to reach the advanced degree exemption.
Changing the order in which the USCIS counts these allocations will probably increase the number of petitions for beneficiaries with a master's or higher degree from the U.S. institution of higher education to be chosen under the H-1B numerical allocations.
Shivendra Singh, vice president, global trade and development, Nasscom, was cited by Financial Chronicle as saying that by flipping the visa lottery, the priority will now go to the U.S. educated postgraduates, so Indian firms may not be able to hire domain experts and skill sets in data sciences, blockchain, Internet of Things (IoT), analytics, big data, artificial intelligence, machine learning and other deep technologies.
"Indians make a significant contribution to the U.S. economy. Some 1,75,000 Indian professionals are employed in 75 percent of Fortune 500 companies. H-IB plays a critical role in bridging the skill gaps in the U.S. Indian tech firms have also been working towards building skills in collaboration with various U.S. universities and spending millions of dollars. Back home in India, Nasscom has the mandate to upskill two million people. It is a fact that Indian IT has drastically reduced its dependence on H-1B visas. Nevertheless, it is time authorities treated these as trade issues and not as immigration issues,'' Singh said on behalf of the apex body.
As per USCIS director Francis Cissna, "These simple and smart changes are a positive benefit for employers, the foreign workers they seek to employ, and the agency's adjudicators, helping the H-1B visa programme work better. U.S. employers seeking to employ foreign workers with a U.S. master's or higher degree will have a greater chance of selection in the H-1B lottery in years of excess demand for new H-1B visas.''
Vivek Tandon, founder & Chief Executive Officer of EB5 BRICS, a California-based immigration advisory firm, said, "President Trump had recently indicated that H-1B holders in the United States can rest assured that changes would soon come which will bring both simplicity and certainty to their stay, including a potential path to citizenship. He also said his administration would encourage talented and highly skilled people to pursue career options in the U.S. Precisely, that's what he has done now in terms of giving more focus on qualification and not really on talent. This will surely impact the future of H-1B holders and future applications and this scenario could spur additional demand for E-B5 visas.''
The new system announced will initiate an electronic registration requirement for petitioners seeking to file H-1B cap-subject petitions. The new regulation will also bring down overall costs for employers, said a USCIS media statement.
The change in rule will lead to an estimated increase of up to 16 percent (or 5,340 workers) in the number of selected petitions for H-1B beneficiaries with a master's degree or higher from a U.S. institution of higher education.
Under the existing system, 65,000 H-1B visas are granted while another 20,000 are reserved for people who hold advanced degrees from the U.S. higher education institutions.
-Sowmya Sangam