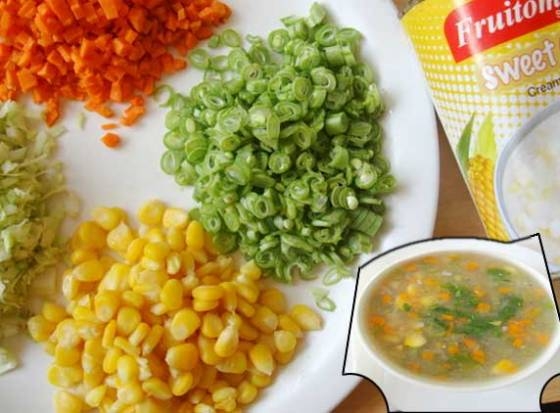 A comforting, thick and filling vegetarian soup without being heavy. Delicately flavored broth that has carrots, corn kernels, cabbage and beans going into it. Extremely easy to prepare provided you have cream style corn on hand. Of course, you can make your own cream style corn but I usually buy ready made cream style corn. So, ready to re-create restaurant style sweet corn vegetable soup at home?

Main Ingredients: sweet corn mixed vegetables
Ingredients
Sweet Corn, cream style: 1 tin
Sweet corn kernels: 1/2 cup (boiled)
Vegetable stock: 1.25 litres (5 cups) OR water
French beans: 8 (finely chopped)
Cabbage: 1/2 cup (finely chopped)
Carrot: 1 (finely chopped)
Cornflour: 2 1/2 tbsps (corn starch)
Sugar: 3/4 tbsp
Salt     to taste
White pepper powder: as required
Spring onion greens: 3-4 tbsps (finely chopped)
Method
In a heavy bottomed vessel or wok, add the cream style sweet corn and vegetable stock or water. Mix.
Add the chopped carrot, beans, cabbage, boiled corn and stir to mix. Cook for 5 mts on medium flame.
Mix the cornflour in 4 tbsps of vegetable stock or water and keep aside.
Add sugar and salt to the simmering soup and cook further for 3-4 mts. Add white pepper powder and mix.
Add the cornflour mixture and go on stirring till the soup thickens. Turn off heat and pour into soup bowls.
Garnish with spring onion greens and serve hot.
Tips
Vegetable stock can be prepared by boiling 6-7 cups of water, 1 large onion (quarter it), a carrot (slice it) and a potato (large cubes). Boil till water reduces to 5 1/2 cups. Turn off heat, strain the stock and discard vegetables.
You can use black pepper powder instead of white pepper powder.
Sugar can be reduced to 1/2 tablespoon.
Adjust corn flour according to the desired thickness of soup. More corn flour yields a thicker soup.
You can prepare cream style corn at home. Take 2 corn cobs, take a share knife and scrap the corn kernels. Melt a tbsp of butter in a vessel, add 3/4th of the corn kernels and saute for 2 mts. Blend the remaining corn kernels to a paste. Add this corn paste and a tbsp of sugar to the vessel and mix.
Add 1/4 cup of water and 3 tbsps milk (optional ingredient) and cook for 7-8 mts. Mix a tbsp of flour in 3 tbsps water and mix. Add the corn flour mixture and go on stirring till it thickens. Season with salt and pepper. Cool and freeze until use.