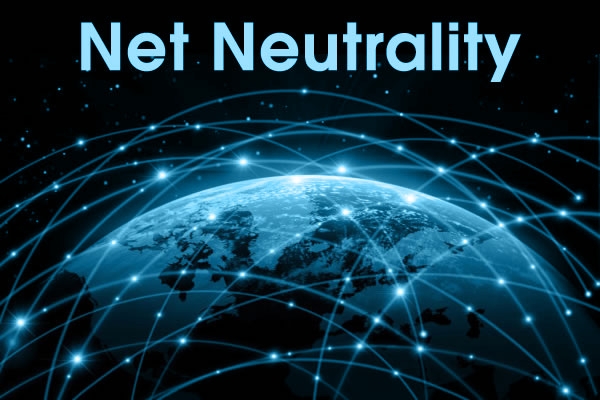 (Image source from: Digital India needs Net neutrality)
Net neutrality means on the Internet, all bits are equal. A consultation paper about net neutrality by the Telecom Regulatory Authority of India (TRAI) will be published soon. With the data access you pay for, you can watch a YouTube video, send a WhatsApp message or make a Skype call and is entirely your prerogative and in an ideal world, your Internet service provider should not prioritise certain kinds of bits over others. A neutral Internet is a utility like electricity, if your power company, doesn't have a say in how you should use the electricity it provides, why should an Internet service provider get to decide what you should do with the bits you pay for.
"The Internet is built on principles of openness and freedom and at the core of this is nondiscrimination at an ISP level," says Nikhil Pahwa, editor of Medianama and a vocal advocate for net neutrality.
The rise of apps like WhatsApp, which eat into operators' SMS revenues and video-streaming services like YouTube and Netflix, which consume massive amounts of bandwidth, these principles of openness and freedom are being challenged around the world. In the United States, video-streaming service Netflix was forced to pay Comcast, the country's largest Internet service provider, to retain its access to consumers or risk being throttled. The US Federal Communications Commission (FCC) recently voted to regulate broadband as a public utility, no splitting the Internet into fast and slow lanes as operators wanted. The FCC was promptly sued by the United States Telecom Association, a trade group that represents some of the country's largest Internet providers.
In India TRAI too is busy in releasing a consultation paper, a mind-numbing 118-page document and 20 questions that it wants the customers to answer about why you think you deserve an open Internet. "The TRAI consultation leans significantly towards finding some middle ground between what the telecom industry wants and the Internet that we've all grown up with," says Pahwa"In my opinion, any compromise on the principles of net neutrality or on any attempt to license online companies is unacceptable."
The paper by TRAI begins by classifying everything on the Internet as we know it, Skype, Viber, WhatsApp, Snapchat, Instagram, Hike, Amazon, Flipkart, Ola, Facebook Messenger, BlackBerry Messenger, iMessage, online games, music streaming services like Pandora and more as "over-the-top" services. "It's ridiculous," says Pahwa. "All these services are the whole reason why we pay these service providers for Internet access in the first place."
"Features become full businesses," says Pahwa. "That freedom will get constrained by this approach to maximise revenues by restricting. Telecom operators should be seeking to maximise revenues by making us use more of the Internet. They're slicing the pie instead of growing the pie."
Things are bad for consumers and worse for businesses and startups that rely on an open Internet to reach customers. "If I'm building an app, I need to know that a new feature, which I may not have thought of today, can be added later without me having to first negotiate a deal with an operator," says Rohin Dharmakumar, an entrepreneur who is in the process of launching Owntastic, that focuses on after-sales experience once a consumer buys a product. "I'm very worried." He adds that regulating the Internet in this manner will ensure that India's booming startup culture is nipped in the bud. "Startups will die."
How will having a non-neutral Internet affect you? For starters, you can say goodbye to paying a flat fee for using a certain amount of data each month and accessing whatever you want. Instead, start paying for whatever you want to access.
By Premji