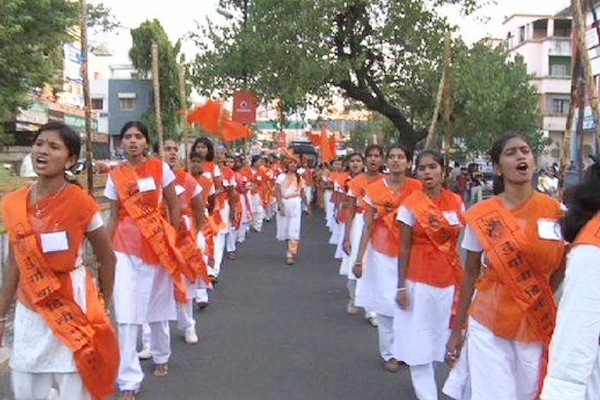 "There is nothing called marital rape. Marriage is a sacred bond. Coexistence should lead to bliss. If we are able to understand the concept of this bliss, then everything runs smooth," said Rashtra Sewika Samithi.
Rashtra Sewika Samithi, women's wing of Rahstriya Swayamsewak Sangh has turned 80. Constituted on the Vijaya Dashmi in the year 1936, the same day on which RSS was formed in 1925, is founded on the belief that "the Indian society is woven by the divine element a woman carries within her".
Like in the RSS, Rashtra Sewika Samithi too has fulltime members who shun their family life and become pracharikas or sevikas. Daily shakhas are its "core unit" and has grown from 2,130 shakhas in 2011 to 2,784 shakhas in 2016.
On its 80th birthday, the Samiti is holding a three-day conference in Delhi, which will be attended by Goa Governor Mridula Sinha, Lok Sabha Speaker Sumitra Mahajan and RSS sarsanghchalak Mohan Bhagwat and others.
"The main problems are women's security, exploitation, dowry, ghunghat and female foeticide. The presence of an alcoholic man at home also causes problems. Men come home heavily drunk and don't undertake family responsibility. The entire responsibility falls on women. There should be total prohibition across the country. We are working for promoting samskaras in the society," Rashtra Sewika Samithi said.
"Social evils in our society are due to [foreign] invasion of 1,000 years. It will take time for society to come out of it. Women do not have strong social consciousness, hence there is low awareness. We have been doing our work for long, but did not get a chance to display social leadership and professional excellency. We are getting that today. Many women are now participating in social life, social activities. It was not there 50 years before. The mother is the nucleus of a family. If a mother gives proper direction for life to her children, then they move ahead in a good way," it added.
"Every woman must get uniform justice. Marriage is a bandhan, it lends security to her life. For her, triple talaq is dreadful. The problem has emerged from there [Muslim society], the solution too should come from there… We need an intellectual debate about what needs to be changed. Law is good, but those who implement the law must undergo a change to bring about the change in the society. In the Northeast, women do all kinds of work. Tribal women are empowered," Rashtra Sewika Samithi opined.
By Premji