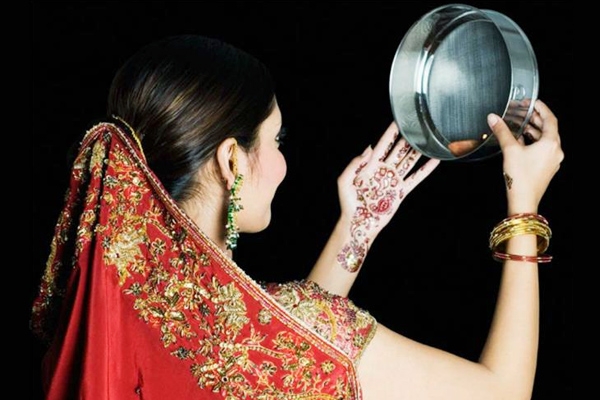 (Image source from: www.Punjabkesari.in)
Karwa Chauth is a key Hindu festival observed by married women for well-being and long life of their husbands.
The festival is celebrated in much ardor in the Northern parts of India mostly in Rajasthan, Himachal Pradesh, Uttar Pradesh, Punjab, Haryana. The festival occurs on the fourth day after the full moon in the Hindu lunisolar month of Kartik, which generally fits September or October in the Gregorian calendar.
This year, Karwa Chauth falls on October 27.
Women worship Lord Shiva, Goddess Parvati, and Lord Kartik, and keep nirjala vrat (fast without food and water) throughout the day until they sight the moon.
Maiden or unmarried women observe fast to get desired husbands.
The word 'Karwa Chauth' is extracted from two words Karwa meaning pot and Chauth meaning 'fourth'. The festival is celebrated on the fourth day of the Krishna-paksha in the Hindu month of Kartik. Karwa Chauth co-occurs with Sankashti Chaturthi, a day devoted to Lord Ganesha.
How Karwa Chauth is Celebrated
Women wake up prior to sunrise and devour sargi, a conventional pre-dawn meal prepared by mother-in-law. The meal comprises dry fruits, coconut accompanied by adornment and gifts.
As soon as the meal is finished women do not eat anything throughout the day until they sight the moon. In the evening, they carry out puja and pray for their husband's long life. There is a custom when women look at the moon and their husband through a sieve. Husbands later offer water and sweet to the wife to break the fast.
Traditional Stories
There are numerous traditional stories related to Karwa Chauth. The popular one is related to Veeravati.
According to the story, ages ago, there lived a beautiful queen named Veeravati, the lone sister of seven loving brothers. To celebrate her first Karwa Chauth after marriage she went to her parents' house. After sunrise, she observed a strict fast but in the evening she could not stand the rigors of fasting and was waiting for moonrise. Her brothers could not bear to see the pain her sister went through and hence they decided to mislead her. They created a mirror in a pipal tree and Veeravati mistook it for the moon and broke her fast. The moment she broke her fast she received a message that her husband has passed away. She rushed to her husband's palace and on the way met Goddess Parvati and Lord Shiva. Parvati informed Veeravati that her husband passed away because she broke the fast after sighting an imitative moon. They asked for pardon and Parvati granted her a blessing to return her dead husband. She was asked to observe the Karwa Chauth fast by pursuing strict rituals and hence she was successful in bringing back her husband's life.
Tithi
Karwa Chauth puja muhurat: 6:04 p.m. to 7:19 p.m. on October 27
Moonrise on karwa Chauth day: 8:33 p.m. on October 27
Chaturthi tithi begins: 6:37 p.m. on October 27
Chaturthi tithi ends: 4:54 p.m. on October 28
-Sowmya Sangam