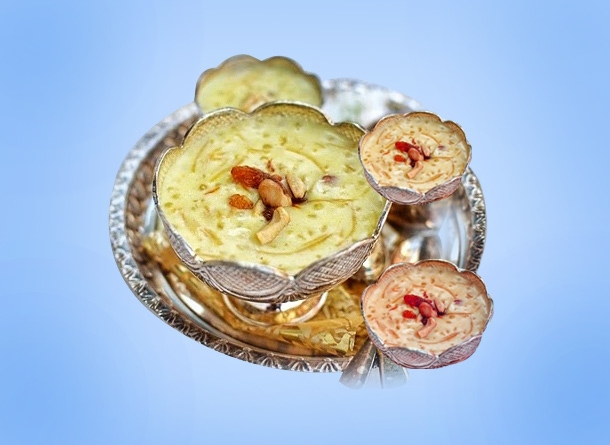 (Image source from: Say 'Eid Mubarak' with Kheerni)
Be it Christmas, Hannukah, Diwali or Eid, no celebration is complete with generous servings of sweet. And what better recipe to make its our special blog today than the good old semiya that is a favorite with one and all. Without much ado, I bring before you a simple, sumptuous "kheerni" recipe to make your Eid-Ul-Fitr extra sweet. Go grab your pots and pans and get making this!
Ingredients:
Milk - 2 cups
Heavy Cream - ¼cup
Sugar - ¼cup
Vermicelli (Semya) - 3tbsp, lightly crushed
Sago/ Tapioca pearls/ Saggubiyyam - 3tbsp
MTR Badam mix - 2tbsp
Cashews - 1tbsp, chopped
Amonds - 1tbsp, chopped
Raisins - 1tbsp
Green Cardamom - 3-4
Saffron - a pinch
Method:
1. Soak sago in water for 10-15 minutes.
2. In a heavy bottomed pan, heat 2 tbsp ghee and roast the nuts until golden. Set aside.
3. In the same pan, lightly roast the vermicelli until lightly golden. Set aside.
4. In a pan,bring milk and cream (if using) to boil.
5. Add cardamom, vermicelli and drained sago and cook on medium-low flame until vermicelli and
    sago are cooked.
6. Now to this, add sugar, badam mix and saffron and cook for 5-8 mins until the mixture thickens.
7. Top with roasted nuts and serve at room temperature or chilled.
Have a blessed, sweet Eid!
AW: Suchorita Dutta